COVID-19 Update: An Important Message to Our Community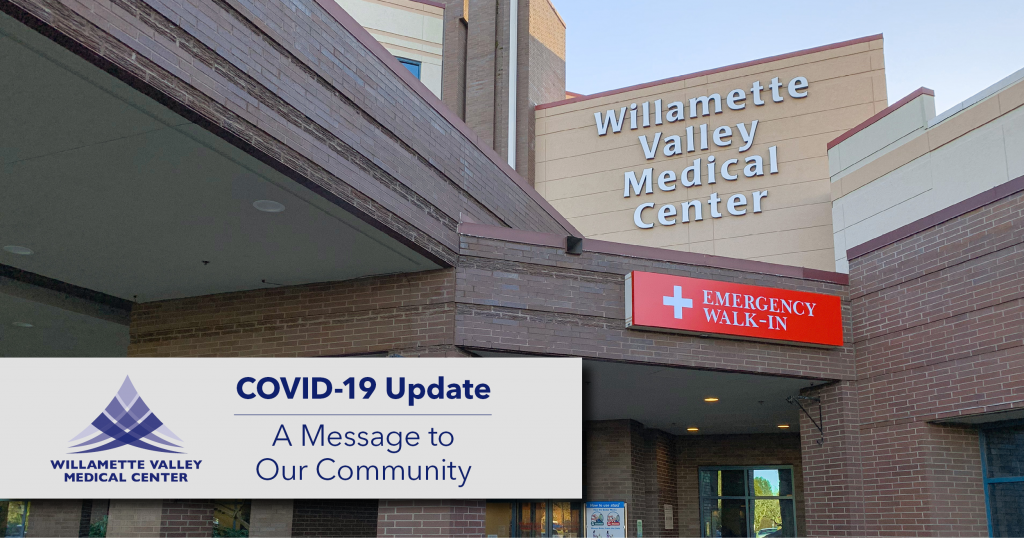 If the past year has taught us anything, it's that our health and the health of our loved ones means everything. This concept is not new to Willamette Valley Medical Center as the health and safety of our patients and team has always been our top priority, and as the healthcare leader in Yamhill County, we know our community holds our hospital to the highest standard for care.
Like our fellow healthcare providers, we continue to be challenged by the concerning trend of COVID-19 in our local community and across the nation. Oregon and Yamhill County have seen a rapid acceleration of COVID-19 cases in the past few weeks. COVID-19-related hospitalizations have even reached an all-time high across our state since the beginning of this public health crisis.
Unfortunately, the same is true here at home, where our hospital has felt the impact of this concerning trend. We are closely monitoring the prevalence of the virus in our community and building upon our hospital's robust emergency operations plan, which maps out – among many things – our plan for handling an influx of patients and expanding the capacity of our facility, if needed. While we cannot speculate on what could happen over the coming weeks and months, we can assure everyone that we are working hard to adapt our hospital operations to safely care for and support our community.
It is important to know and understand the impact of this change in the trajectory of the pandemic on our hospital's operations. We continue to take all the necessary precautions to keep our patients and staff safe, and the following protocols have not changed:
Enforcing a universal masking policy at all times while in the facility
Requesting patients limit their visitors to no more than two individuals at a time
Screening all individuals entering the facility for COVID-19 symptoms, potential exposure to a COVID-19 positive individual, and travel history
Implementing the most effective cleaning and disinfecting protocols
Isolating our COVID-19 patients
Enforcing procedures and protocols to minimize the risk of spreading infectious diseases, including COVID-19
Importantly, we continue to strictly adhere to the latest CDC and state guidance for healthcare settings. As these guidelines continue to evolve, we will update our policies and protocols accordingly.
We would like to remind you:
If you haven't already, get vaccinated and be a vaccine hero!
Get the care you need now. Our doors are open; our facilities are clean and safe; and our team is ready to care for you.
To find a healthcare provider, call our Physician Referral Line at 503.922.6991 or visit the Find a Doctor tab on our website.
We also offer online scheduling and telehealth options for your convenience.
We are honored to serve as your healthcare provider and are so appreciative of the support you've shown our teams over the past year. However, this newest surge of COVID-19 has the potential to overwhelm the local healthcare delivery system, and it is going to take all of us being extra cautious and taking every possible preventive measure to change the course of the pandemic and avoid a greater healthcare crisis. Each of us must do our part to protect ourselves, our healthcare workers, and our communities in the face of this new threat.
Simply put, we cannot let our guard down – and you can rest assured that your care team at Willamette Valley Medical Center won't either.
---
Visit the links below for additional information related to COVID-19:
COVID-19 Preparedness Information
COVID-19 Vaccination & Testing
Read All Posts