Dr. Breanna Thompson Joins Willamette Valley Medical Center Team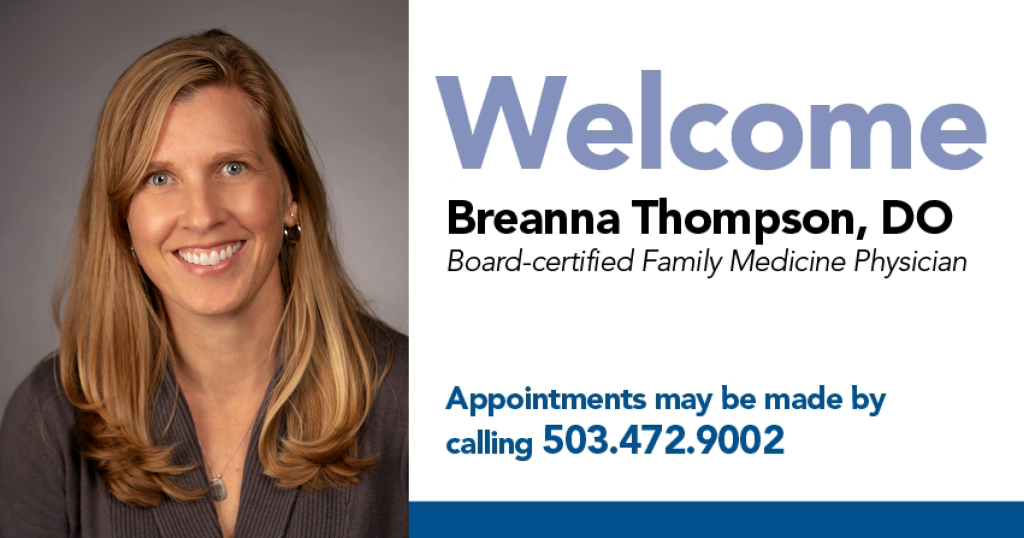 Willamette Valley Medical Center (WVMC) is proud to announce that Dr. Breanna Thompson has joined its medical staff and will be providing care to people of all ages throughout McMinnville and the surrounding region. Dr Thompson is board-certified in family medicine and specializes in preventive health, chronic and acute illnesses, prenatal care, transgender care, as well as HIV treatment and preventative care.
"We are excited to add Dr. Thompson to the team of providers at McMinnville Internal Medicine," said Lori Bergen, CEO of WVMC. "Adding an enhanced spectrum of care available to patients is important as WVMC strives to meet our region's evolving healthcare needs and make our community healthier."
Dr. Thompson graduated from Des Moines University in 2009 and completed her residency at Poudre Valley Hospital as part of the Fort Collins Family Medicine Residency program in 2012. She joins the hospital's medical staff following experience at Salud Family Health Center in Fort Collins, CO. Dr. Thompson is certified by the American Board of Family Physicians.
When Dr. Thompson is not treating patients, you can find her enjoying the outdoors, knitting, or cooking.
Dr. Thompson has begun seeing patients at McMinnville Internal Medicine. Appointments may be made by calling 503.472.9002.
###
About Willamette Valley Medical Center
Willamette Valley Medical Center (WVMC) is a 60-bed acute-care, full-service facility, fully accredited by The Joint Commission and certified as an accredited Chest Pain Center by ACC Accreditation Services, the accrediting arm of the American College of Cardiology.
WVMC features a 24-hour Emergency Department with round-the-clock imaging and laboratory services, Joint Replacement Program (Advanced Certified in Total Hip and Knee Replacement), Intensive Care Unit, and Senior Behavioral Health Services unit. WVMC also provides a host of other services including a full spectrum of inpatient and outpatient Surgical Services, Family Birthing Center, Endoscopy, Cardiology, and Therapy Services. In addition, the hospital offers specialty radiation oncology services in the H. R. Hoover, MD, Cancer Center and advanced wound treatment at the Wound Care & Hyperbaric Medicine Center.
For more information and a full list of services, visit WillametteValleyMedical.com
Read All Posts