10 years of Mammograms…and then the diagnosis
~10 years of Mammograms and Monthly Breast Exams~
By Nova, WVMC Breast cancer patient sharing her story as she fights the battle of her life
For ten years I religiously practiced as much preventive care within my power. Yet, I have now become that 11%, weeks before my 45th birthday! The 11% of breast cancer patients that are diagnosed before their 45th Birthday. Just 5 years before my Mother had been diagnosed and 5 years after my Aunt had received her diagnosis.
My two breast tumors are so deep that not even the hands of my highly trained and skilled breast surgeon can feel them.
The mammographer and radiologists helped find the first one through my annual mammogram screening.
My second tumor was ONLY picked up on the "just in case" double breast MRI. Thankful the first one was found or we may have never known the second existed without the MRI.
All the times I "thought" I felt something, but was soothed from the clockwork of my mammogram every year on or near Valentine's Day, because it was a gift I gave myself. A gift that for that year breast cancer hadn't touched my life or my families. The only thing that caught me at stage 1 breast cancer was my religious practice of mammograms.
I am not sure of every man or woman's story before me. It starts like this for me, a "suspicious" mass on my mammogram. The whirlwind of fears, unknowns and the plan to fight cancer started. I have collected not one, not two, but three "Post" biopsy goodie bags (The pen, the stickers, ice pack, antibiotics, band aids and the chocolate). The white bag with the pink ribbon so kindly and thoughtful given to you as you leave your biopsy!
The pink ribbon is no longer about something I wear for my family, friends or ones I have lost to Breast Cancer near to me…The Pink Ribbon is me! I am the Pink Ribbon, it is now something that represents part of me!
The minute you get diagnosed with Breast Cancer it's like you take a deep breath and can't exhale. You can't exhale until you get all the answers. I have a DREAM TEAM at Willamette Valley Hospital! No stone is left unturned on our path of discovering stage, type, grade, size, treatment plan and anything else in my "Battle Plan"?
Can you get these answers in a day? No!
Can you have a "Breast Dream Team" that makes sure that every answer is answered as quickly and as thoroughly as possible? Yes!
I have experienced it since day one. The time frame of biopsies, MRIs, more Biopsies, more mammograms, bone scan, piles of appointments as you meet your surgeons, medical and radiation oncologists, and all other members of your team. They essentially lead you to where your journey will begin. Seems to take ages as you wait. It's really not! It feels like the weekends as you wait for results are years, during the week your phone is ringing with doctors, nurses, medical receptionists with results and additional appointments! Days can be packed from morning until evening as appointments fill up your time. I held my breath every time my phone rang and I knew it was a result or a need for another test or procedure! Breast Cancer can be a Full Time Job from the start! Getting your "Cancer Battle Plan" is the first step to beating cancer. I had symptoms in the months before that were leading to another diagnoses of possible rheumatoid arthritis. I had personal things such as settling a divorce, relocating countries, starting a new life with my daughter back in the states! All things I was carrying with me and then breast cancer came!
There is no invite for this disease or most cancers. No timing! I recall telling one of the doctors this is supposed to be the "Start of my new life….Not the end!"
Breast Cancer quickly reminds us to enjoy the little things in life and to take one day at time, sometimes one hour and sometimes one minute as living life takes on much more meaning and purpose. Here it is within weeks of my 45th birthday and the start of my life! Two Tumors Stage One, One HER2 Positive, One not, Chemo, Bilateral Mastectomy after Chemo, Hair Loss, Getting my daughter ready for her 1st day of Middle School, Preparing for Courts for Divorce..It was all here in my lap. It's funny how God (Eclipse or the spirits, or whatever you believe in…) puts people in your path. All the right people showed up in my life without me knowing what amazing roles they would play in the upcoming year. I have a "Breast Friend", adopted family and friends , my acupuncture team , amazing breast care team of doctors, surgeons, nurses and many others who just came with the breast cancer to say "You are not alone!" I call them my cheerleaders of life!
It's been a whirlwind few months-Port was put in and we are 3 chemos in, I gave up my hair to the Mermaids (Be my next blog), my daughter started school, I am learning what my body can and can't tolerate in chemo. I am learning that taking care of myself for once in my life is okay! I told my acupuncturist that my goal for the next year was "To get healthy"! That is exactly first on my plate side by side with motherhood!
While I am not the first to fight breast cancer, the first I have known nor will I be the last until we find a cure, What I know is breast cancer is a journey that is not meant to be walked alone, it's okay to be afraid, happy and tired all in the same moment and then forget it the next due to "Chemo Brain." It's really all right to take time for yourself and give your body what it needs to heal while you take on cancer!
I figure if I can do this for a while I can do anything in life! To living a life you love one breast at time! To finding a cure…..
Nova A. will be writing a weekly blog in the month of October. October is breast cancer awareness month. Please help us welcome and support Nova during her journey.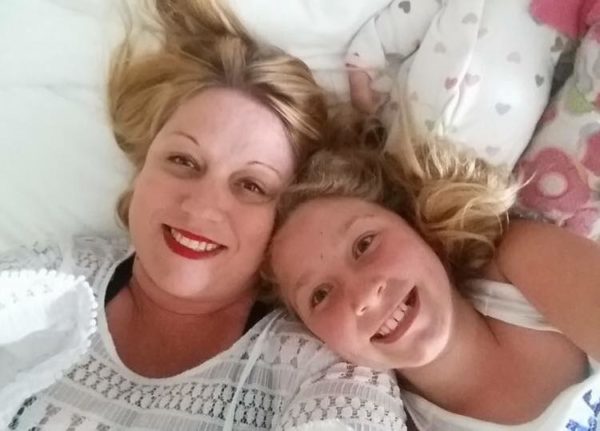 Read All Posts