52 Years of Service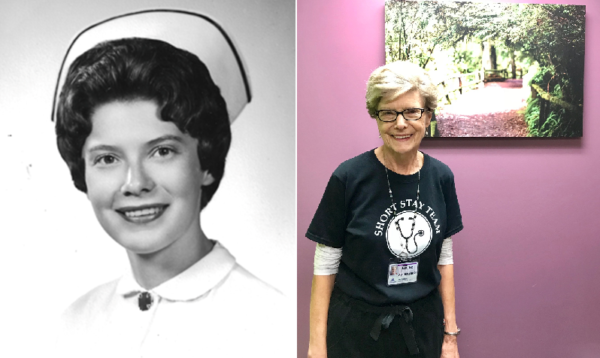 We are so happy to see Lucille Kuhn back in the unit that she originally opened many years ago, Short Stay. Although she is not back as a nurse, she has joined the WVMC Volunteers Guild and will be helping out in the unit a couple times a week.
She has never been one for standing in the spot light, but as such a beloved employee and now volunteer, we wanted to welcome her home.
In August of 1964 her husband got a teaching job in McMinnville, OR. She had just graduated nursing school and the couple decided to pack up and moved from North Dakota. It was then that she got her first official nursing job at WVMC. She spent her entire career at WVMC working in various departments, Short Stay was her favorite though. "It was my favorite because it was always different and always busy. I get to meet new people every day and learn about their lives and so much more. Just today I have met a gentleman who loves to read and he told me all about his favorite book. Its inspiring, my patients." Besides it being her favorite, it was also her baby. She opened the very first Short-Stay unit complete with 5 beds in one room, 4 blue leather recliners, and one room for reserved endoscopy procedures.
After working at WVMC for 52 years, Lucille retired in August 2015. We are so happy that she has decided to come back and work with us as a valued volunteer and a bright smile in the department. When we asked her why she decided to come back she said, "I had always planned to volunteer somewhere after retirement. All my life I have worked with people and stayed very busy, but through retirement I found that I just flat out missed people and the amazing interactions you have each day. Coming back was an easy choice. I love the staff and am looking forward to being helpful as a volunteer."
Read All Posts