A Future in Medicine starts early
Taylor Vogel can't decide whether she would rather assist patients directly as a medical practitioner or help develop cures as a medical researcher. So she's planning to do both.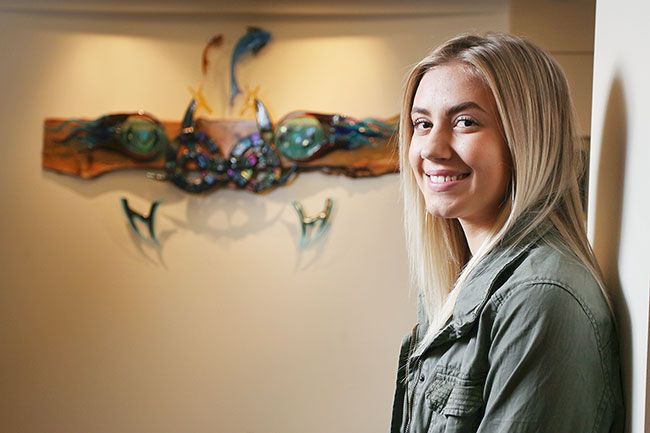 "I like both the social and the science part, so I want to be an M.D. or an M.D./Ph.D.," said Vogel, who graduated in June from McMinnville High School. "I can't see myself doing anything else."
Becoming a medical professional has long been a dream of Vogel, who moved to McMinnville as a child and attended St. James School and Duniway Middle School prior to Mac High.
In part, she said, she was influenced by seeing someone close to her go through cancer treatments. That's one of the reasons she's considering oncology along with several other areas of specialty, such as neurology and surgery.
She's also been influenced by her parents, who both work in science fields. Her father, Scott Vogel, is a pharmacy technician. Her mother, Christine Vogel, works in a Precision Analytical chemistry lab.
"Science feels right to me," said Taylor, who has two younger sisters. "I'm passionate about how medicine can help people."
The opportunities she's had in high school have only strengthened her interest in the sciences and medicine. She took numerous classes in Mac High's health careers pathway program. And, as part of her Health Occupations 2 course, she completed an internship at the Willamette Valley Medical Center.
However, despite her interest in medicine, Vogel said she always signed up for a variety of classes when she was in school. At Duniway, for instance, "I tried a little of everything … art, P.E., everything. I wanted to explore." She continued that in high school, taking "every class I could" before focusing on health care her junior year.
When she signed up for classes like medical terminology, anatomy and physiology, and introduction to health care occupations, "I felt, this is it!" she recalled. That was only confirmed by the WVMC internship and another internship at the Carlton Veterinary Clinic — experiences for which she is deeply grateful.
"I was able to shadow professionals through everything," she said, recalling observing a colonoscopy and an operation to neuter a dog. "It reassured me not only about the medical side, but also that I'd be content in that setting … during the slow times and the busy times."
Vogel will start a pre-med program at the University of Portland this fall.
The private school recruited her and offered an academic scholarship. After visiting the campus — "Beautiful!" — and talking with science teachers there, Vogel said she knew it was the right fit.
UP is relatively small, with a good student/teacher ratio. Besides, she joked, "It's close, but far enough away."
She said, "I'm super happy to be starting college."
She also received several other scholarship awards, including one from WVMC's volunteer auxiliary. She has been working at Gold Rush Coffee to earn college money as well.
Two months before her first class, she'd already bought her books, eager to get going.
"I'll be in school a long time," she said, thinking not just of the next four years, but also of the graduate medical programs and residencies in her future. "I'm not dreading it! I'm excited."
One of the classes she'll take this fall is chemistry.
She enjoyed her chemistry class at Mac High, but found it a challenge. "In college, I'll really need to be on top of it," she said.
Advanced Placement biology and anatomy and physiology came easier to her in high school, she said. She especially loved the latter.
"How the body works is so interesting and cool," she said. "There's so much to it."
Vogel said her Mac High health teachers helped make the classes interesting. They were also very encouraging.
"When I asked them for recommendations, they had good things to say," she said. "I felt they believed in me."
Her parents have been supportive as well. Vogel said she feels lucky to be their daughter.
"They taught me to be very well-rounded," she said. "They taught me science is part of my world, and also how to be kind and have social skills.
"I wouldn't be where I am without them."
Read All Posts