Project Compassion- An Unforgettable Experience
WVMC's Lori Cutrell, RN donates personal time to travel with "Project Compassion" providing medical care to countries in need.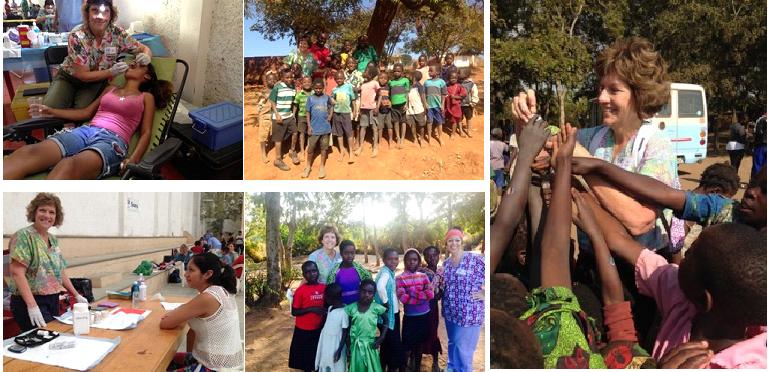 I just returned from an amazing medical mission trip and wanted to share my story with you. I have always wanted to combine my love of nursing and my love of traveling so I could touch the lives of those without access to medicine and basic healthcare. The mission aspect, combined with the medical focus, adds an essential spiritual component which allows me to connect on yet another level which I find fulfilling and rewarding. For me, these excursions have become a powerful passion!
I traveled with a faith based group called Project Compassion that is based out of Rancho Bernardo, California. I have traveled with them to Malawi, Africa, and my latest trip was to Oaxaca, Mexico. Both were trips of a lifetime. The organization arranged all the travel plans, accommodations, and medical clinics. Every day we drove to a different village and set up a full clinic, where we took vitals, cleaned wounds, tested for diabetes and pregnancy, treated infections, and distributed medications. Basically, we touched the people and loved on them. These people all suffer with similar aches and pains, as they physically work so hard to survive and have so few creature comforts. But they all love to be touched by the Americans who are there to help.
On my recent trip to Oaxaca, we were fortunate to have two dentists travel with us. They set up their "office" and pulled tooth after tooth. I got to assist them and was soon put to work pulling teeth after the dentist loosened them up. Nothing like new experiences! Yes, the dentists used Novocain, but the patients were only given 6 Tylenol tablets to cover the pain they would have while recovering. Most amazing to me, was how grateful the people were for pulling their teeth. They would place their hands on our faces, look us deep in the eyes, and repeatedly thank us. Several older women spent the day using their meager supplies to bake sweet treats for us. The comparison of their appreciation to what I routinely receive in my job was refreshing.
During my trip to Malawi, Africa, the need for health care was so great that there were huge lines of people waiting for us when we would arrive. Each day, we would pull up in our van into a small village where hoards of people were waiting and crying for our care, happy to just be in our presence. In 4 days, we saw 2,700 people. We were totally exhausted and satisfied in a way nothing else in life can! We had a few "give-aways" for the children, such as stickers, hard candies, and hats. You would have thought we gave them a bar of gold! They swarmed us and wagged their hands in our face to get our attention. At times, we felt overwhelmed with the sheer numbers and had to get a male member of our group to clear them away. The people showed their love and appreciation by singing, dancing, and calling us Uzunga, which affectionately means white face. They waited for hours, literally, without any complaints.
When I went on my first trip, I did not know anyone. I was so worried as to what kind of people went on these trips and if I would be able to connect with anyone. I immediately realized that they were just like me. They loved nursing, had an adventurous spirit, and wanted to make a difference in the other's lives. It was amazing how quickly we all bonded while traveling and sharing in these once in a lifetime experiences. Now, we encourage each other to go on the next trip so we can share it together! After working clinic days, we get to experience R&R together which is also arranged by the organization. In Malawi, we spent an amazing 4 days at a safari camp. It felt so good to relax together and see the beauty of the country where these people live.
These trips have been a lifesaver for my professional life. They allow me to strip down my nursing talents to the bare essence of smile, touch, connection, and opening my heart. Remember what it felt like to believe you could heal by just touching someone? And in return, I receive those things I don't often experience at the bedside in our culture such as warmth, gratitude, smiles, and appreciation. So when my spirit cries for the basics, I know it is time for me to refocus on another kind of nursing. Taking care of others around the world renews and fills me in the most powerful of ways! I would highly recommend it!
As a side note, Project Compassion is planning a trip to Madagascar, Africa in October 2016. Madagascar is the poorest of the poor. Currently, Project Compassion is terribly short on doctors. By the way, you do not have to be a healthcare provider and anyone can go. There are many jobs you would be qualified to do! Check out projectcompassion.org for more information on upcoming trips.
Lori Cutrell RN
Willamette Valley Medical Center
Read All Posts