WVMC has Special Visitors
Dayton Elementary D.A.S.H. Students Come to Visit
It's not every day that our hospital gets inundated with 30 kindergarten through fifth graders, but when it does happen, it brightens up the entire hospital. This last week WVMC was fortunate enough to host the Dayton Elementary "DASH" program. "Dayton Activities for Students Health" or D.A.S.H, as it is affectionately called, is an after school program focused on teaching healthy living. The program focuses on teaching good personal hygiene, dental hygiene, mental health, personal safety, proper exercise habits, nutrition, water safety, and many more life skills.
WVMC wanted to show the kids that hospitals aren't scary places and explain to them what hospitals do. The kids witnessed how blood is drawn for the laboratory to run tests and that it doesn't hurt. They also learned about bones and what they look like inside their bodies. Our radiology department brought in many x-rays to show them and even an ultrasound machine so they could see their blood in their arteries and how their tendon and muscles worked. An orthopedic surgeon, Dr. Mark Thomas from Willamette Valley Orthopedics and Sports Medicine, applied a cast to one brave volunteer and then cut it off with the cast saw. She was smiling the entire time and told her class that "it didn't even hurt one bit." To finish off the tour, Clint Gabrys, Director of Radiology Services and the Cancer Center, took the kids on a tour of the H.R. Hoover, MD Cancer Center. They were mesmerized by the huge machines in the radiation therapy vault but the survivor bell took the cake as the favorite item of all. Getting to ring the bell after completing cancer treatment is what our patients most look forward to and it is safe to say the kids getting to ring it was just as exciting for them.
It was a great day to show off all that is offered at Willamette Valley Medical Center, but more importantly, calm fears of the kids. We never want to see them, but if we have to, we want them to know they are in the best hands and that we are here to help them. Thank you to Dayton D.A.S.H. teachers. You do an amazing job and we are thankful you are in our community.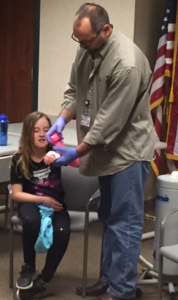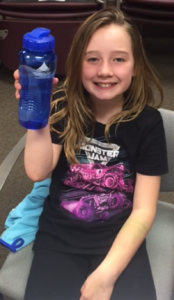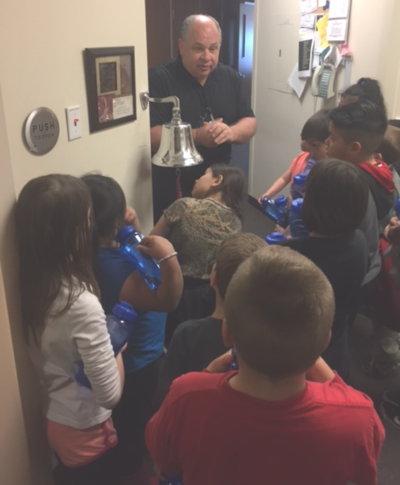 Read All Posts