Willamette Valley Medical Center Named Top 20 Rural & Community Hospital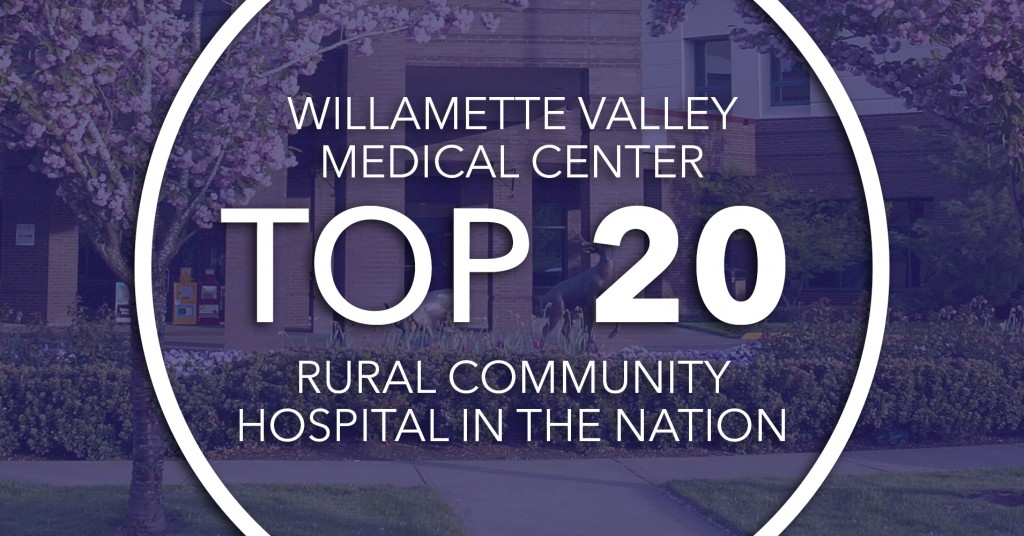 Willamette Valley Medical Center (WVMC) has been named among the Top 20 Rural & Community Hospitals in the United States. The designation as a Top 20 Rural and Community Hospital by the National Rural Health Association (NRHA) means that WVMC is among the 20 highest-ranked prospective payment system hospitals in the country.
The determining factors for the top 20 rural community hospitals were based on eight publically reported indices: inpatient market share, outpatient market share, quality, outcomes, patient perspectives, costs, charge, and financial efficiency. The ranking is based on an evaluation by the Chartis Center for Rural Health Care using the iVantage Hospital Strength Index. WVMC is the only Oregon hospital named to the list.
"I cannot fully describe how proud I am that the excellent care our employees and providers offer to the community of McMinnville and surrounding region is being recognized nationally," said Lori Bergen, Chief Executive Officer at WVMC. "To be among the Top 20 hospitals means that our collaborative efforts to create a place where people choose to come for healthcare and achieve positive clinical outcomes has put WVMC in the top 1% of rural hospitals in the United States. The caliber and quality of care you can receive right here at home has been recognized as one of the very best, and it does not happen without a team of hardworking staff, innovative leadership, and dedicated providers who are fully committed to making communities healthier for the patients and families we serve.
"Our recognition as a Top 20 Rural and Community Hospital means you can count on WVMC as your trusted provider to deliver the services you need now and in the future. I am thrilled to celebrate this prestigious moment with our entire hospital team," Lori continued.
"To be among the small group of hospitals who can say they have been recognized by this award is a true honor and we want our community to be proud of their hospital and the quality of care that's available to them right here at home."
Read All Posts