Amelia Miller | #MyWVMCStory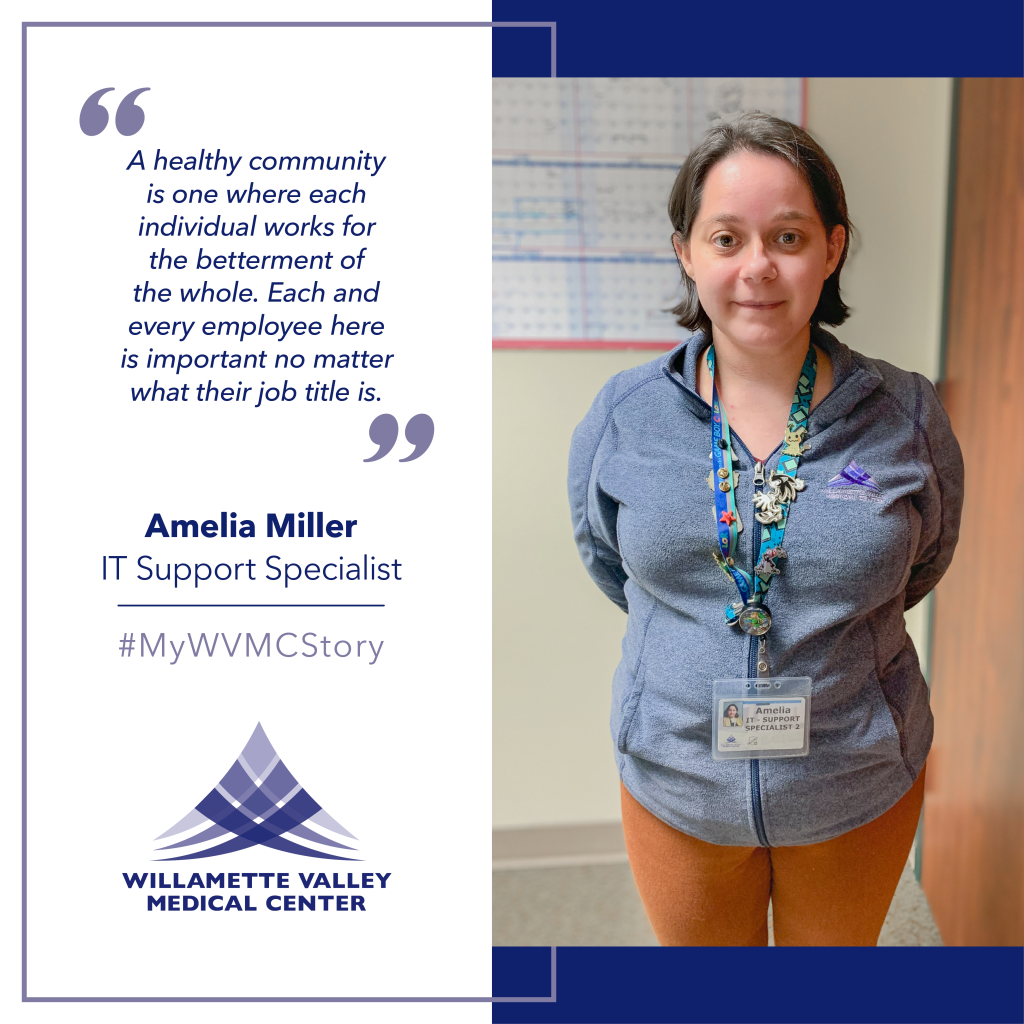 Amelia Miller
IT Support Specialist
What was your inspiration for getting into healthcare?
2021 was a peak time for COVID-19. Everyone was hurting for staff - many still are - and I wanted to help. My family has a history with healthcare and both my mother and sister had worked for Willamette Valley Medical Center, so it seemed like the obvious choice.
How long have you been employed here? Have you always been in the same position?
I've been with Willamette Valley Medical Center for a little over a year now. I officially started in November 2021 as a PRN in the Admitting department. From there, I moved to a full-time Scheduling position and now provide deskside support for the IT department.
What does Making Communities Healthier mean to you?
You don't have to be physically making anyone's health better to make an impact on the community. A healthy community is one where each individual works for the betterment of the whole. Each day we can choose to give our all for the people around us. In turn, we hope that they will do the same and lift the community to new heights.
What are three things people may not know about you?
People may not know that I was born in Germany, have an extensive rock collection, and have been in every state west of Kansas.
What are some of your interests outside of work? What is your favorite local gem?
Outside of work, I enjoy tinkering with and fixing old video game systems, hiking, snowboarding, and increasing my ever-growing book collection. My favorite local gem is a fundraiser called Ski & Ride for a Cure. Held annually, it raises money for cancer research and support for affected families.
What do you enjoy most about working at WVMC?
On my first day for orientation, Lori Bergen (CEO) asked me my name and since then she has used it every single time we talk. That proved to me that even in a building with over 600 staff, there are no small roles. Each and every employee here is important no matter what their job title is.
Read All Posts