Veronica Tijerina-Rangel | #MyWVMCStory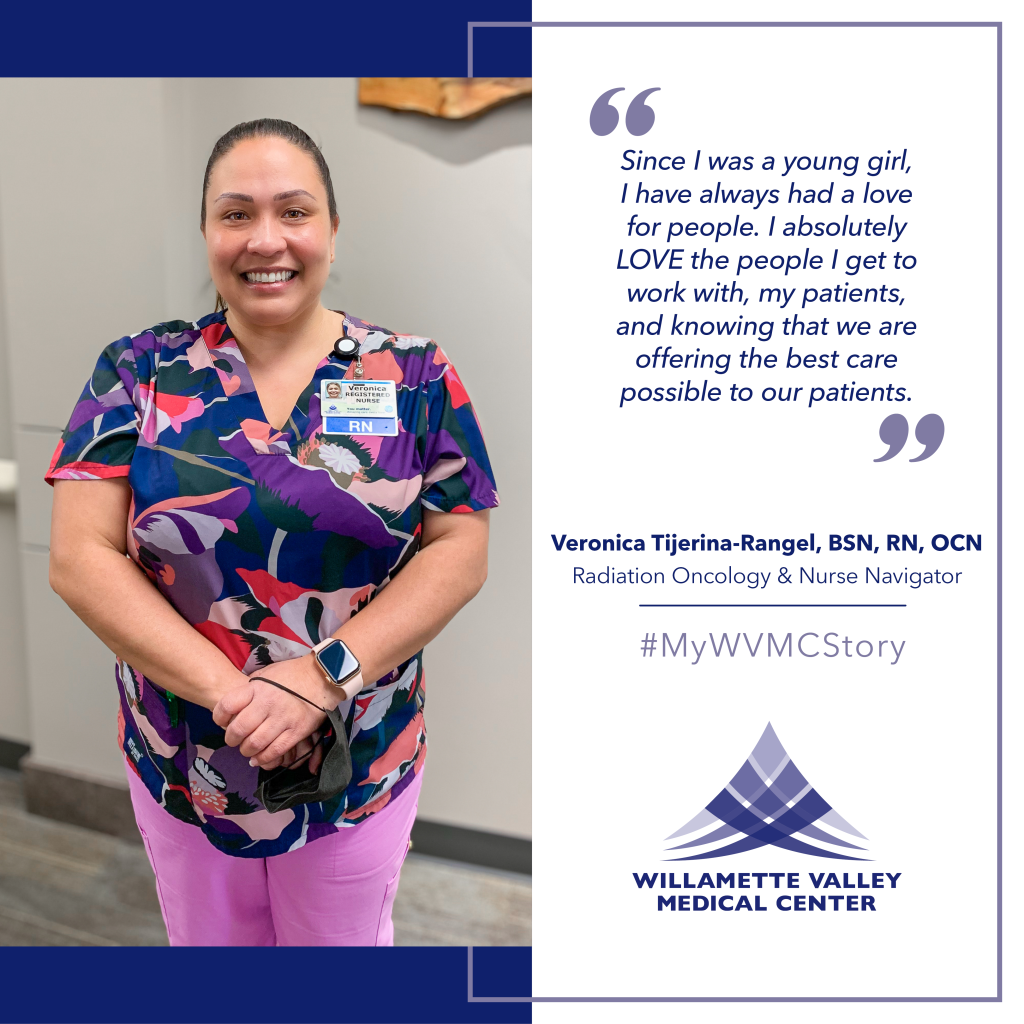 Veronica Tijerina-Rangel, BSN, RN, OCN
Radiation Oncology & Nurse Navigator
What was your inspiration for getting into healthcare?
Since I was a young girl, I have always had a love for people. Nursing was the natural choice to sharing my heart for others and supporting them when they need it the most.
How long have you been employed here? Have you always been in the same position?
I started working at H.R. Hoover, MD Cancer Center, in 2015. My nursing career started in 2005 here in McMinnville with Virginia Garcia Memorial Health Center. Throughout my time here, I have worked in several roles, including: telephone and walk-in triage, women's health, and as a healthy living and diabetic educator. I later worked as an Labor and Delivery nurse for a few years. Labor and Delivery was the job I had dreamed about while in nursing school, but life and God had other plans for me. Through those plans, I was introduced to Cancer Care, finding my true calling!
What does Making Communities Healthier mean to you?
Making Communities Healthier means knowing your community; what their needs are and what barriers may be impacting their health, then taking in active role in helping to make a positive impact and support them.
What are three things people may not know about you?
1. I grew up in a Spanish speaking home, understood a lot of Spanish, but did not actually start speaking Spanish until I began working at Virginia Garcia Memorial Health Center where my AMAZING co-workers helped me work up the courage to start practicing. I would not consider myself fluent, but I really do LOVE that I can now communicate with my Spanish speaking patient's, friends, and family.
2. I love to sing! We even have a traveling Karaoke set-up that we take to all our family gatherings.
3. I love to swim and always joke with my family that I am the Mexican version of Moana. I feel at peace when I am in the water.
What are some of your interests outside of work? What is your favorite local gem?
My family is my life! I have two miracle babies who are now 9 and 3 years old. My husband is so much fun and is my best friend, and we have a saying, "family time is the best time." I also enjoy traveling to tropical places where I can be in the ocean. A local gem would be my home! Jose and I have had big dreams and together we have created those dreams in our home.
What do you enjoy most about working at WVMC?
I absolutely LOVE the people I get to work with, my patients, and knowing that we are offering the best care possible to our patient's. Cancer Care has been a blessing in my life. There are tough days; however, even in those times there are so many beautiful moments and blessings.
Read All Posts